Kuki Kaax - Management Unit for Wildlife Conservation - Kuki Kaax - Unidad de Manejo para la Conservación de la Vida Silvestre (UMA)
Welcome to The Jungle Place! A sanctuary for the endangered Spider Monkey (Ateles geoffroyi) in Quintana Roo, Mexico. We provide food, shelter, access to medical care and a lot of love to rescued Spider Monkeys who were victims of the illegal pet trade, poaching, and habitat destruction and have nowhere else to go.
We strive to provide these remarkable, highly intelligent primates with a safe and happy home here in their native jungle. They live and play as a colony/family and are provided with all the care they need to thrive, as they can no longer survive in the wild.
The Jungle Place is a Mexican non-profit organization. 100% of all donations received go to the care and feeding of our rescued animals - The Jungle Place AC es una organización sin fines de lucro. 100% de todas las donaciones se destinan al cuidado y alimentacion de nuestros animales rescatados.
See The Jungle Place in the upcoming documentary SANCTUARY directed by Shannon Keith and produced by the non-profit animal rescue and advocacy organization, ARME (Animal Rescue, Media & Education) which makes award-winning documentary films, rescues animals from abuse, neglect, the dog meat trade, and laboratory testing through its mission Beagle Freedom Project, as well as innovative campaigns and ground-breaking legislation, towards an end to animal exploitation.
SANCTUARY is an inspirational and heart-warming glimpse into the lives of our primate brothers and sisters. This beautifully filmed documentary brings the viewer into the lives of these special relatives of humans, to see the world through their eyes. Through first-hand accounts and rescues, to interventions and interactions with the primates themselves, SANCTUARY shows you a wondrous world where humans have given everything to save the lives of these used, abused, unwanted, and abandoned animals and given them a second chance.
Narrated by Victoria Summer, this is a story of innocent lives interrupted by tragedy, but inspired by heroes and hope. Meet Puchi, Chucky, Jimmy Sr., and Jungle Place residents Chaac & Bali — each of their stories touches us in a different way.
We are honored to receive this award from PROFEPA!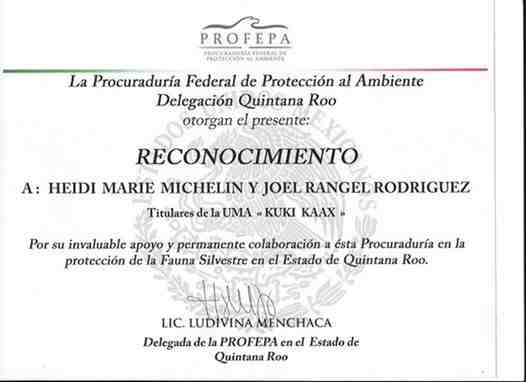 Happy Birthday To Aurora!